Meet Bird Island inventor, Del Richards​
Del Richards - Author - past cattle man. Ornithologist and ABC broadcaster.
Del is based in Far North Queensland and having spent his life in the country and on the land, understands the needs of remote locations.
Del's mission is to save a million birds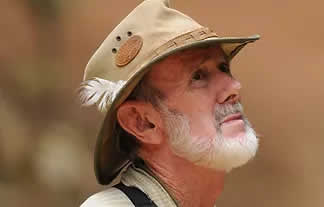 Del Richards grew up in the Hunter Valley, NSW, born into a cattle family who first settled here in 1862.
Originally his father dealt in dairy heifers, turning to beef when Britain joined the Common Market. Del was always around cattle, successfully turning his hand to roping events in rodeo for eleven years. He's seen drought, floods and starvation prices. In 1994 he and his wife Pat sadly left the land, starting a birding business in FNQ.
The "Bird Island" idea came from understanding the shortcomings of stock troughs and the inability of birds to drink due to low water levels. That factor directly means huge losses to the bird population especially in the heat of summer when technically the water is available just inches away.
Having this device assists the environment in a passive manner.
Del has also written a book  "My Country Life – for what it's worth."  A memoir, a history of the development of Northern and Eastern Australia. A true chronicle of country life in an age that is quickly passing.  A book that needed to be written.
This book was written during the same busy period in which Bird Island was developed.
To purchase the book, visit mycountrylifethebook.com